New Year Message | Standing above Time
2018-01-20
1961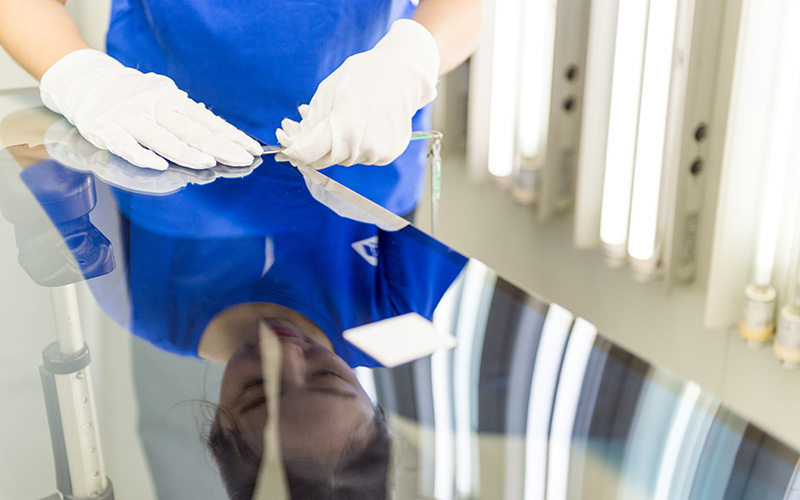 On June 22nd, 2017, He Yufei, employee of Fuyao Group Fuqing Automotive Glass Co., Ltd. was measuring the glass black band.
Days are slipping away and time is fleeting. The splendid time always gives us new memory and hopes for the future.
This year has witnessed Fuyao's forty-year history. During the forty years, Fuyao has grown from a small unknown factory in a small town, to the national and world famous manufacturer; developed from planned economy to market economy and then global economy; expanded from fitting shops to auto makers and now to the heart of each of you. Fuyao has been deeply rooted in China step by step and became prosperous on the world economic stage.
Time offers us latitude, helping us find the way where we are coming from. But time is not the origin of life. Only the mature and strong heart can support life to continuously and permanently grow, finding different solutions to solve various obstacles, making constant breakthroughs and moving forward all the time..
There is nothing easy. Even a small action of putting a layer of adhesive glue to the surface of glass will require the stable operation of skilled worker through hundreds of processes. In order to make every customer rest assured, and also make our logo on every piece of glass flourish, we reiterated old but forever new "THREE DON'TS QUALITY PRINCIPLES" throughout this year, which means "Do not accept, make and deliver defective product". The principles are carried out in every aspect, including planning, production, packaging, transportation, document tag, telephone customer service, timely response, bill checking, backup service and resource allocation.
This year, we also keep promoting the idea of lean management through every staff member persistently in the clumsiest way, pushing the entire organization to a perfect level. In the age of rapid internet growth, we took the lead in exploring industrial intelligent manufacturing to make the enterprise more "intelligent"; putting forward self-innovation and introducing comprehensive budget management systems to enhance corporate competitiveness based on the significant effect of existing financial regulations; keeping profound research and development constantly for product iteration and fill every single piece of glass with "soul" , to be integrated with nature.
Nothing is impossible, even if in foreign countries. From establishment to production, Fuyao Glass America Inc. (Fuyao America) has become the world template to output Chinese manufacturing. The whole construction was completed and launched into normal operation in only two years. And the third quarter started to see full profit in 2017. David D Hicks, Government Official of Ohio exclaimed that, Fuyao not only brought us jobs but also hope to our city. Europe was also amazed at Chinese speed of building Fuyao German plant, which will become the bridgehead of Europa with Fuyao Russian plant located at the back, developing steadily. In the future, trucks loaded with functional and lightweight Fuyao automotive glasses will depart from Fuyao Russia, delivering to the whole Europe across Eurasia Land Bridge.
Fuyao people of yellow skin, white skin and black skin from different races, countries, cultures and beliefs are working in the workshops of nine countries to realize one same great Fuyao dream.
On October 19th, 2017, Xiong Shuangping, Zheng Jinlong, Yang Yixiong and Du Xiaozhong (from left to right) are inspecting defects of auto glass in the packaging plant.
It's Fuyao's simplest value to do the easiest things well and the most difficult things will be solved easily. During forty years in business, we keep faithful and adhere to our beliefs, just as in KAILASH in the film Path Of The Soul.
Therefore, today we drop an anchor in the flood of time, standing on time and looking through Fuyao history. We are clear of self position and mission, penetrating through the mist of honour and dispute, dissolving differences and resentments between each other, letting go of conflicts between interests and ideas and grasping the bonus of time. We Keep excellent tradition and original heart forever, and meanwhile always avoid the traps of future time. One is the success trap, coming from extensive focus in the existing strength, and the other is failure trap which results from too much attention in the exploration and innovation. Only in this way, will our heart will be connected together and become an integral whole with a common destiny and only in this way, we will not waste the gift from time.
"As a big enterprise, we should keep the adoration and deference to nature; and the reverence and love to man; we should serve the country and people", said Cho Tak Wong, Chairman of the Board of the Fuyao Group. 2018 new era has unveiled and Fuyao "High Speed Train" has started. The establishment of internal virtual market places a virtuous man in power, and a capable man in the right position. Supply power to every "carriage", leaving winter and driving towards spring.
Standing on time, everything is ordinary; everything will also be extraordinary. What is ordinary is achievement and extraordinary pursuit. This is our gift to the world and the new year gift for all staff, customers, users and shareholders as well.
Wish you a piece of clear and beautiful world. Happy new year to you!